Biography
View Discography here | Visit Barbara's Blog here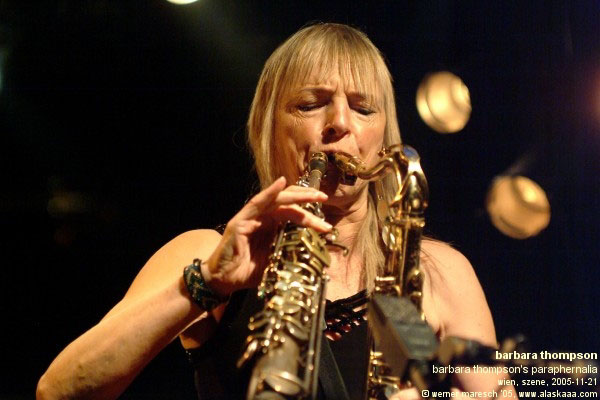 Barbara Thompson MBE passed away peacefully on the morning of Saturday 9th July after a 25 year battle with Parkinson's disease alongside complications with her heart in recent years. She was just 18 days shy of her 78th birthday.
Barbara was born in Oxford and educated at Queen's College, Harley Street, London and the Royal College of Music, where she studied clarinet, piano, flute and composition. Whilst retaining a strong interest in classical music, Barbara was captivated by the jazz work of Duke Ellington and John Coltrane and developed a consuming passion for the saxophone. She formed her own group Paraphernalia in 1977. The band , still touring and recording despite Barbara being diagnosed with Parkinson's Disease in 1997, became one of the major instrumental attractions on the European concert scene. Barbara's original and inventive compositions and soaring saxophone and flute improvisations, have earned her international acclaim, while the originality of the music has appealed to a wider audience than solely contemporary jazz buffs.
Millions throughout the world have heard the sound of her haunting saxophone playing the title theme to the TV Series, 'A Touch of Frost'.
Barbara featured on Colosseum's 'Live O5' album alongside a DVD of her band Paraphernalia live at the Theaterhaus, Stuttgart that same year. She released her 17th album with Paraphernalia "Never Say Goodbye" in 2007. Barbara's battle with Parkinson's caused her to retire for some years from public performance and focus on her work as a contemporary classical composer.
'Green' is the 4th movement of Barbara Thompson's saxophone quartet suite 'From Darkness into Light' (in 6 movements.) It is performed in this video by The Tetraphonics Saxophone Quartet from their CD 'The Invitation' (2007) on the Cybele label (www.cybele.de). A video by Jon Hiseman. Barbara has composed many works for various ensembles, choirs and orchestras. Scores and parts can be downloaded free in PDF format at www.barbara-thompson.co.uk
'Perpetual Motion', dated 2012, features 10 of her compositions played by the 12 piece Apollo Saxophone Orchestra. Another album 'Russian Roulette' featuring her compositions played by 'Trifarious', a clarinet trio with piano and violin led by virtuoso Tim Redpath, was released in 2015.
A new treatment for Parkinson's meant that Barbara was able to feature on Colosseum's 'Time On Our Side' in 2014 and join them on their farewell tour. The final Paraphernalia album that featured her on sax 'The Last Fandango' was released in 2015 and since then a 14CD boxset 'Live At The BBC' (Repertoire Records) has been released covering 21 years of BBC radio broadcasts – the soundtrack of her life –  a perfect accompaniment to her autobiography 'Journey to a Destination Unknown' (Jazz in Britain). In 2021, Barbara Thompson's Paraphernalia joined forces with the National Youth Jazz Orchestra (NYJO) for a new studio album featuring 10 original compositions from the virtuoso saxophonist, composer and bandleader. The line-up includes the remaining able members of Paraphernalia – Pete Lemer on keyboards, Billy Thompson on violin, and Dave 'Taif' Ball on bass – with 17 phenomenal players from the National Youth Jazz Orchestra.
"What a lovingly constructed recording. A great tribute to one of the finest drummers ever by one of the best sax players ever – and her family. It matters not a jot that Barbara doesn't actually play on the album because her creativity runs through the music which is a fitting tribute to two musicians who contributed so valuably to Jazz in general."
Mark Ringwood, Radio Broadcaster
In 1964, Barbara was invited to take the lead alto chair in The New Jazz Orchestra, a seminal group of young English jazz musicians under the direction of the late Neil Ardley. There she met her husband-to-be, drummer Jon Hiseman, and they married in 1967. They have a son Marcus and a daughter – singer Ana Gracey – and four grand children, Lili, Isabelle, Benjamin and Nico.
View Barbara's Projects