Barbara Thompson's Paraphernalia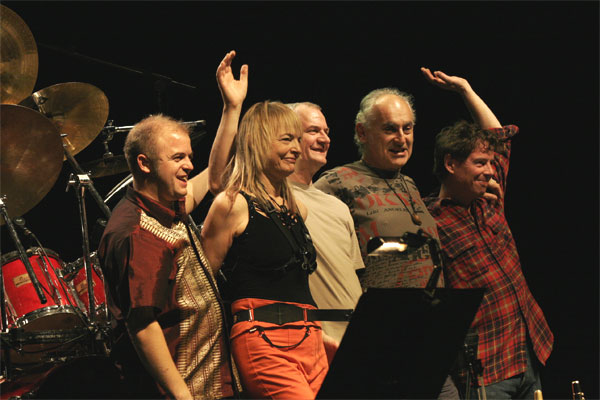 "If you are enthralled by the sound of one of Barbara Thompson's tracks or albums, you will not be disappointed by any other of her tracks or albums. In terms of personal discretion, sovereign technique and artistic infallibility Barbara Thompson has set a standard that only she can live up to."
A Brief History by Barbara Thompson
When Jon Hiseman got Colosseum together, we had only just got married, and for a whole year I worked in the stage band in the musical, Cabaret, paying the mortgage and general living expenses, while Colosseum rehearsed and recorded their first album getting ready for the road. Cabaret was the worst experience of my life, (except for school), and when the show finished I determined to start my own jazz quartet. The same booking agency that booked Colosseum out booked me out, because in those days every university had a jazz club, and there was no shortage of gigs.
Click for Barbara Thompson's Biography
I had yet to find my own identity. A lot of jazz musicians wanted to play standards, and often gave me a hard time when I wanted to perform my own compositions. One day, in the early 70's, I came across an album that Jon had made with Peter Lemer, performing Peter's compositions featuring incredible players such as John Sermon. I was really impressed with the freshness and originality of the recording, and immediately contacted Peter and went round to see him. For a time we worked together and his wife Pepe joined us on vocals, with Steve Cook on bass guitar, and a succession of drummers, but the time was not yet right for a permanent musical relationship, I had yet to find myself with my own musicians rather than working in someone else's environment, and Peter had his own paths to follow.
Barbara Thompson's Paraphernalia Live'05 – DVD (TMDVD0611)
Filmed in Stuttgart, November 2005 – a complete live concert from the "Never Say Goodbye" tour.
It was going to be 12 years later, that we finally joined forces and formed the Paraphernalia of today. In the meantime I met up with pianist Colin Dudman, who made a fantastic contribution to the music, and for the first time I had someone understanding and interpreting my music in the right way. Harold Fisher joined on drums and Roy Babington on bass guitar. From then on the band began to take off…. audiences feel instinctively when things are right. We were getting incredible crowds. Harold had to leave unfortunately, as he couldn't leave his family for long periods, and he was getting into the session scene. Gary Husband, aged 17 at that time, came and filled in, and what a star he was. A year later, Jon joined Paraphernalia.
During this time several violinists passed through the band, including Peter Hartley, Tony Aldridge, and Rod Dorothy. When Dill and Colin left to form their own band, I was very sad, and it took a long time to replace them. Eventually Peter Lemer joined and for a while some of the finest guitarists in the country played with us including Paul Dunne and Malcoln MacFarlane. Bassists included Dave Ball in the early days, Phil Mulford, and Paul Westwood. Finally Dave Ball came back again, three years ago we found the wonderful violinist Billy Thompson, (he appears on the last three albums) and I feel very proud of our latest CD 'Never Say Goodbye". We have just returned from a tour of Austria and Germany, where the musicians played a storm. We are planning to play some festivals in April 2006.
Manuel Weber from Kieler Nachrichten – the main newspaper in Northern Germany writes about the opening concert in Kiel: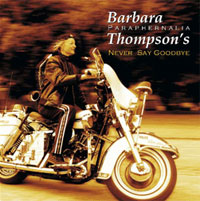 "Equipped with two CDs, a "Best of" and the new album "Never say goodbye" coming out in December, they keep on deploying those weapons of creativity already used in the '70s to attack the well-worn paths of established listening habits, namely a fusion of progressive or art rock, classical and folk elements as well as the omnipresent jazz. Paraphernalia's technical skills and their unbroken virtuosity when it comes to dealing with complex rhythmic patterns enter an impassioned plea for seriousness in popular music…
…this music never seems only to appeal to the intellect but is always sincere and aims at the heart…
Instead of focusing the musical message via improvised staccato in particular the brilliant Billy Thompson on the violin makes ample use of any remote field of harmonics whatsoever. Against any rock'n'roll philosophy with Paraphernalia more is more. Some may say that their transcendental exuberance is a bit too much and the impression of talkativeness may arise but the music never becomes trivial for astonishingly enough the long absence from stage couldn't do any harm to the improvising talents of the band members and their deep understanding for each other when performing.The enthusiastically celebrated concert ends after two hours with three encores and the moving emotion that devotion for passion is obviously apt to overcome any misfortune in the world."
Manuel Weber, Lübecker Nachrichten, 05.11.2005