Biography
Chris Farlowe was born John Henry Deighton in Islington, North London on October 13 1940, amidst the rationing, gas masks and bombing raids of WWII. Chris' earliest musical influences were inherited from his close-knit family. His Mum, a self taught piano player, played at family sing alongs and at the local pub, where Chris sang in public for the first time. Chris and his Mum loved Doris Day along with other outstanding female vocalists from this era, including Jeri Southern, Sarah Vaughan and Anita O'Day, and Chris admits, he learnt a lot about song delivery from listening to these timeless chanteuses.
In common with many of the great British stars who emerged from the sixties, one of Chris's earliest heroes was the late Lonnie Donegan, and whilst still a teenager, Chris formed his own Donegan/Vipers influenced skiffle band – the modestly named 'John Henry Skiffle Group!' They entered and won local talent contests and played small local venues for pocket money.
Chris's family were supportive of John Henry's ambitions for a musical career, but encouraged him to learn a trade to fall back on if things didn't go according to plan. At various points in his young life Chris considered engineering, boxing, and art before a teacher at school noticed that Chris had a natural ability with wood and asked him if he would consider carpentry and joinery as a career. Chris thought it sounded like a good idea and an apprenticeship at a Holloway carpentry firm was duly arranged, where Chris spent the days carving church furniture and the evenings playing with his band. Unbelievably, he was often in trouble with his work colleagues for singing – they claimed it put them off their work. Chris relates a story about one of his distracted colleagues carving an angel with six fingers!
By the late fifties Chris had gravitated more towards Rock and Roll and left off playing guitar to concentrate on singing. The group evolved into Chris Farlowe and the Thunderbirds; the Farlowe coming from American jazz guitarist Tal Farlow, and Thunderbirds from the American car of the same name. By the early sixties, Chris and The Thunderbirds were established favourites on the London and Hamburg club scene and had a growing band of enthusiastic and loyal followers. Not surprising when you consider the Thunderbirds line up eventually comprised; Albert Lee, Dave Greenslade and Carl Palmer. The Hamburg club scene, made famous by the Beatles, was a treacherous place for a young, inexperienced band like the Thunderbirds. Both Chris and Albert Lee relate how promoters were reluctant to pay artists – leaving them out of pocket and unable to even afford food and accommodation. Chris remembers the German fans looking after them, providing food and somewhere to sleep. He recalls one time, when he arrived back in London after a lengthy stint in Hamburg with just £8 in his pocket. A low point at which he seriously considered giving up music and going back to carpentry.
November 1962 was a landmark year. It saw the first vinyl release, the self penned, intriguingly named 'Air Travel', unfortunately it didn't chart but it did bring Chris to the attention of the Columbia record label who signed him the following year; releasing five singles over the next couple of years. Apart from dance floor hit, 'The Blue Beat' in 1964 as the Beezers, commercial success in the first half of the 60s was limited, though critical acclaim, as always was widespread.
In 1965, things didn't look like they were going to improve; the single 'Buzz With The Fuzz' was doomed to failure when EMI withdrew it soon after release, after realising the song contained references to illicit drug taking. It did however become a mod classic and won over many parka wearing fans, who to this day still regard Chris as a mod hero. Things picked up later in the year in an unexpected way when an unsuspecting Chris and The Thunderbirds recorded 'Stormy Monday Blues', a relatively unknown blues number by T Bone Walker. Recorded as a studio try out, they were surprised at the critical acclaim it received and even more surprised when they found out that Sue Records had released it under the pseudonym 'Little Joe Cook'. Now, widely acknowledged as one of the main contenders for the accolade, best British blues record in history, people took some convincing at the time that the authentic sounding vocals were produced by Chris from North London, and not some obscure black bluesman from the deep south!
Hanging out at London's famous Flamingo Club , meant that Chris came to the attention of 'future Rolling Stones Manger' Andrew Loog Oldham. Originally employed at the club to collect bottles, cook hotdogs and wash up, Andrew had plans to start a new record label and club owner, Rik Gunnel, saw enough potential in him to provide the financial backing. Andrew was a huge fan of Chris's voice and was keen to sign him to the new Immediate label. Things finally started to happen with the release, in 1966, of Immediate's show case EP on which Chris covered 'In the Midnight Hour', Mr Pitiful, Satisfaction and 'Who Can I Turn To?' This was followed by the single release 'The Fool' produced by Eric Burdon – a commercial miss, and 'Think', a Jagger/Richards composition which had modest chart success, and the first album on Immediate, '14 Things to Think About'.
The summer of 66 saw England winning the Football World Cup, the USA fighting in Vietnam and the release of 'Out of Time', the third single on the Immediate label. To say it was a huge hit would be an understatement. It was a phenomenon and struck a cord with young and old alike. It was one of those rare records that just hit the right spot in a nation's consciousness, at the right time. With production by Mick Jagger (his first attempt as a solo producer) and with an unmistakable and distinctive opening string arrangement by Arthur Greenslade – it was a sure fire hit. Regularly appearing in greatest record polls, it has been covered by numerous artists including; the Rolling Stones, Ramones, 101'ers , The Stranglers, and more recently, The Manic Street Preachers.
In September of 1966, Chris was in his dressing room after finishing his set at the Flamingo, when someone came in and informed him that Otis Redding was in the audience. Chris refused to believe it, but the door opened and in walked Otis who promptly invited Chris to appear on a special edition of Ready Steady Go. Anyone who has seen a recording of this show will acknowledge that it is a classic – the performances literally fizz with energy and define this period in music history. Chris singing solo on 'This Is a Man's World', and joining Redding and Eric Burdon on 'Shake'.
Against Chris's wishes, EMI followed up 'Out of Time' with the release of 'Just a Dream' and then the much better 'Ride on Baby' both of which received a luke warm reception in terms of chart success – 'OOT' was such a tough act to follow. The latter part of the sixties saw a number of releases, none of which had any major chart success with the exception of the classic 'Handbags and Gladrags' a song penned especially for Chris by buddy Mike d'Arbo of Manfred Mann fame and covered by Welsh rockers, the Stereophonics in 2003. Incredibly, this was to be Chris's last chart success, not counting the re-release of 'OOT' in the mid seventies. By the end of the sixties, Chris didn't have a record deal and looked set to fade into obscurity.
But wait… it's 1970 and who's this in the afghan coat with long hair and fashionably flared trousers? The Hill were a hard rock combo formed by ex Thunderbirds bass player Bruce Waddell, drummer Colin Davey, and keyboard player Peter Robinson, together with ex Fat Mattress guitar player Steve Hammond, and cellist Paul Buckmaster (yes it does say cellist!). Just one album with The Hill, but it's a classic and quite possibly the first heavy rock album to feature a cellist. 'From Here to Mama Rosa', a much heavier, rock sound than anything Chris had done to date, was hinting at what might be if Chris chose to move in that direction. And fortunately for rock fans, he did.
Yep, it is our very own Chris, now playing with progressive rockers, Colosseum, creating what is considered the definitive group line up. Two, now classic albums, Daughter of Time (1970) and Colosseum Live (recorded at the Universities of Manchester and Brighton) (1971), before the band split.
Chris then joined Vincent Crane's Atomic Rooster. Not a happy time for Chris and after completing two albums, 'Made in England' and 'Nice N Greasy' the relationship was terminated. It was a bleak time; Chris was involved in a serious road accident that kept him away from recording and performing for two, long years. In 1975 Chris emerged out of the doldrums, hitting the road again with a new Thunderbirds line up and chart success coming with the re-release of 'Out of Time' in 1975. In 1978 a collaboration with Dave Greenslade resulted in Chris contributing vocals on the theme tune for a BBC television series called 'Gangsters'. This was followed by a brief foray into acting. 'Curriculee Curricula' was a BBC2 play shot entirely on location on the University of Birmingham campus. Apparently, it was a 'musical play' about the adventures of a plumbers mate on a University Campus (you couldn't make it up). But, the decade ended quietly for Chris – management hassles and the punk explosion saw Chris sidelined once more.
The 80's saw Chris's re-emergence from semi-retirement. He joined up with old friend, Jimmy Page on the Death Wish II soundtrack, and in 1988 guested on Jimmy's highly acclaimed 'Outrider' album, for which he earned a gold disc. Sadly plans for a world tour with Jimmy came to nothing, a bitter blow to Chris at the time. In 1985, Chris teamed up with Immediate stable-mates Steve Marriot and PP Arnold on a charity single, raising funds for The Band Aid Trust and Ronnie Lane's 'Access into Research for Multiple Sclerosis' charity. He also performed on a live Radio 1 show, bringing the house down with his rendition of 'Stormy Weather'. The very worthy albums 'Out of the Blue' and 'Born Again' were released during this artistically rich and productive time.
1990 began what has essentially been twenty years of non-stop touring, and a steady stream of solo and collaborative recordings. Early on in the 90s, Chris was involved in several TV advertising campaigns – Ovaltine, Coca Cola and Asti Martin amongst the corporates who wanted to use Chris's voice to market their products.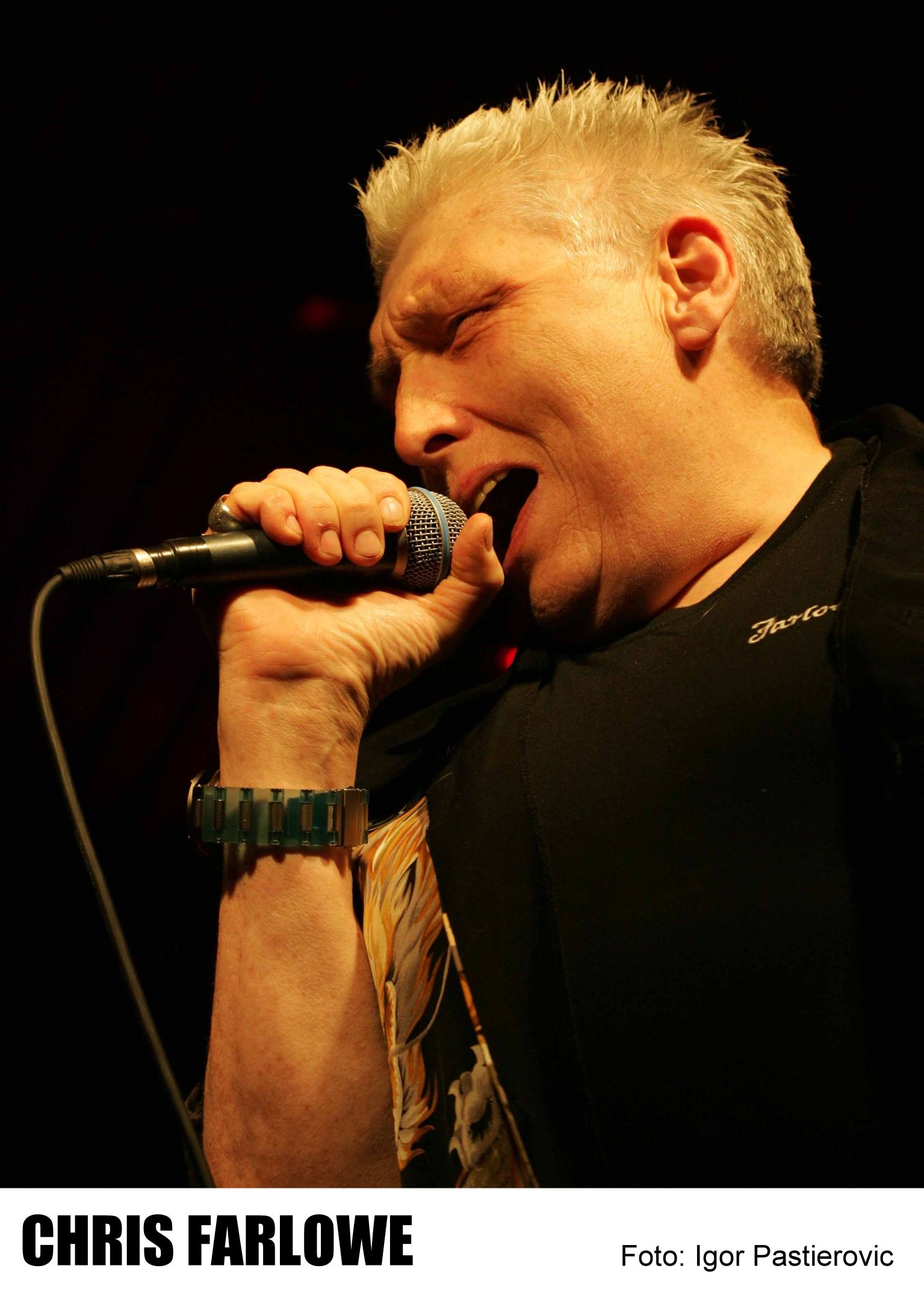 On the road, the schedule was relentless, tours were undertaken with Pete York and Friends
On the road, the schedule was relentless, tours were undertaken with Pete York and Friends, and Roy Herrington, the former resulting in the 'Live in Berlin' album. In 1992 the album 'Waiting in The Wings' was released, which received ecstatic reviews in the music press, but despite touring to promote the release, the acclaim didn't translate to sales and chart success. The re-formed Thunderbirds toured in various reincarnations, perhaps the most successful of these being the line up that included Whitesnake's Micky Moody. There was also a tour of Spain – though the less said about this one the better as by all accounts as someone actually died! Not forgetting, numerous one-off gigs with a host of musicians, old and new, including Albert Lee, and Miller Anderson. 1995 also saw the start of a long-term collaboration with the Norman Beaker Band and the seminal live recording 'Lonesome Road' (1995). The other big story from the 90's was of course, the Colosseum reunion – leading to European and UK tours and a new album, 'Bread and Circuses' (1997).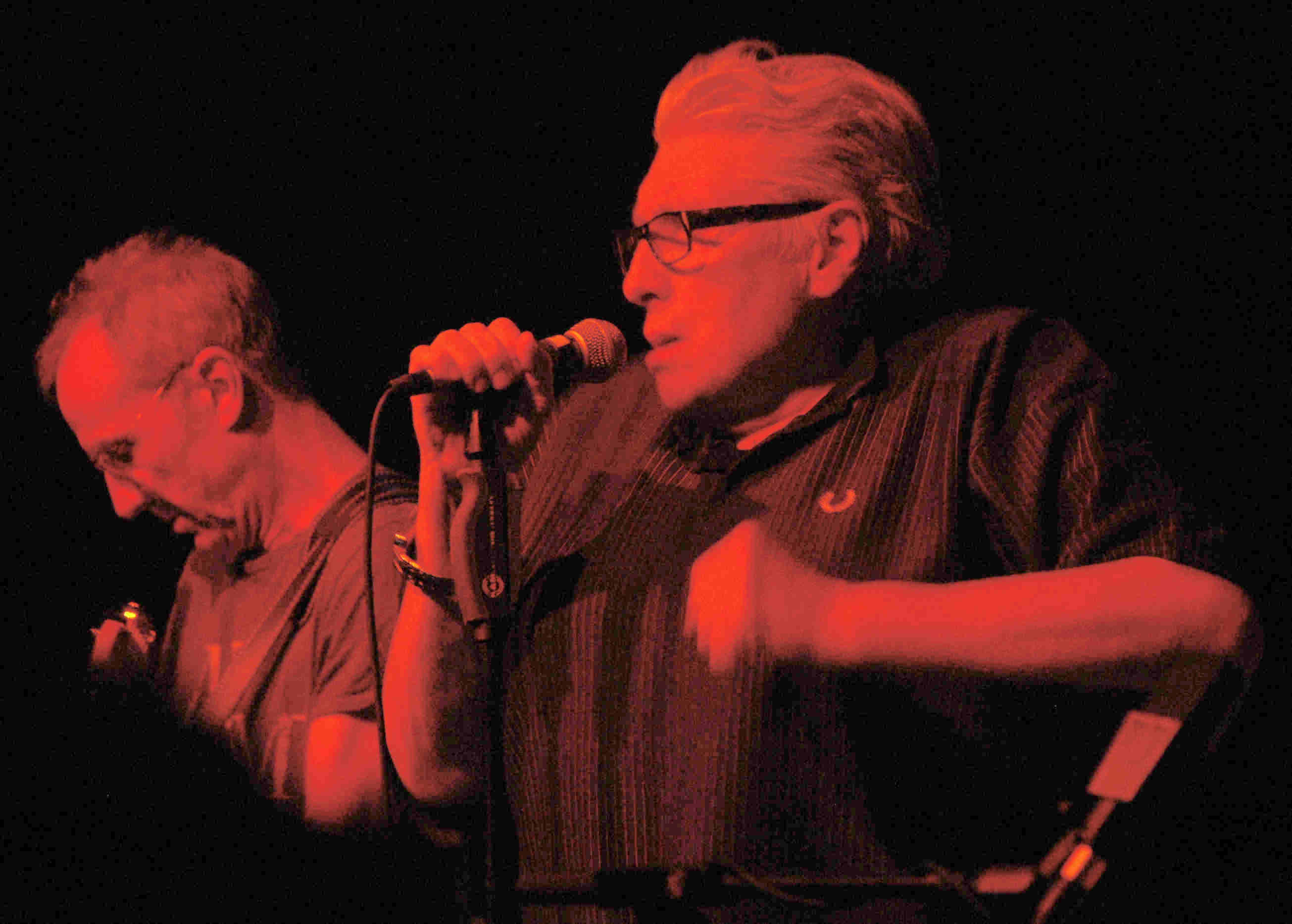 The new century came and Chris, now in his 60th year, showed no signs of slowing down. The recordings from early 2000 have all become mini classics; 'The Voice', produced by Clem Clempson, saw Chris' in a contemplative and mellow mood and was followed by 'Glory Bound', a beautifully crafted collection of songs with spot on production by Norman Beaker. A solid, quality effort, typically mould breaking and denying those who would try to pigeonhole Chris as purely a 'blues' singer. 2003 saw the release of 'Farlowe That', a much more rock orientated album, which resembled more closely, the feel of a live set from Chris. The single, 'I'll Leave the Light on', from this album was released in Summer 2003. Unfortunately, despite a show stopping performance on 'Top of The Pops' with the Norman Beaker Band, it didn't chart.
Fronting Colosseum continued to play an important part in Chris's life – and 2003 saw the release of a much awaited new studio album, Tomorrow's Blues. 2004 saw the release of a 46 track anthology 'Rock n' Roll Soldier' containing a connoisseurs selection of Chris' recordings from 1970 to the present including nine previously unreleased tracks. And just to show the modern 'beat generation' a thing or two, he covered 'Paul Wellers', 'Changing Man', on Kris Gray's 'Delicious Records' 2004 compilation, 'Back To the Future'.
In 2005, a long awaited follow up to 'Lonesome Road' was released. 'Hungary for the Blues' was recorded in Europe and included many crowd pleasers from Chris' sets with the Norman Beaker Band, including some not previously released. Another live recording was released the following year – 'Live at the Rock Palast' – a CD and DVD package from a concert recorded in Bonn. The icing on the cake in 2006 was a lifetime achievement award for Chris, from the British Academy of Song Writers and Composers.
In 2008 he released the album 'Hotel Eingang', a studio album, backed by the Miller Anderson Band, featuring a dozen tracks plus something quite unique for track 13, which is guaranteed to raise a smile! The title stemmed from memories of Farlowe's first trip to Hamburg in 1961 when he thought he was staying at the Hotel Eingang, not realise that the sign on the door mean 'hotel entrance.'
Even while reaching 70 years of age, Chris maintained an impressive schedule of recording and European touring, running a successful antiques business into the bargain. He became a firm favourite on the 60s nostalgia circuit in addition to completing annual UK tours with the Norman Beaker Band, and European Tours with the Hamburg Blues Band (featuring Clem Clempson) and Colosseum.
By 2011 The Voice' was as strong as ever when he embarked on a UK tour with the Norman Beaker Band, and made a 56 date Solid Sixties UK theatre tour.
In 2016 Chris Farlowe performed his No. 1 hit 'Out of Time' one more time, as part of England's 1966 World Cup win 50th Anniversary celebration, with a 40 piece orchestra at Wembley Stadium. It was one of the highlights of Chris' career.
Then in March 2017 Jimmy Page released the long lost album he had recorded and produced by Chris Farlowe & The Thunderbirds back in 1961. Jimmy had been a great fan of the group as a teenager, admiring both Chris' vocal prowess and the playing of lead guitarist Bobby Taylor. He had e-mailed Chris in 2016 saying: 'We've got to do something about this album we've had stored away for 56 years.
Called 'Chris Farlowe & The Thunderbirds: The Beginning' it was released worldwide on April 28th, 2017. It was made available as a vinyl LP with a CD attached and as a Deluxe boxed set version signed by Jimmy and Chris with rare photos and text. Explained Chris: "Jimmy was only sixteen years old when he made and financed the recording. It came about because he liked our guitar player Bobby Taylor who was the very first Thunderbirds' guitarist. Jimmy used to come along to our gigs when he was just a kid learning to play guitar himself. Bobby influenced him a great deal.  One day he walked up to us to a gig at the Ebbisham Hall in Epsom where he lived and said: 'I'd like to finance an album of you and the band.' I was amazed that he could get that together at such a young age. So we recorded it at R.G. Jones studio in Morden, Surrey. He didn't play guitar himself, not with Bobby Taylor playing in the studio."  But it was revealed years later that Jimmy did play acoustic guitar  on the 'Out Of Time' single,  as a session player.
More important reissues followed when Repertoire Records released the 2 CD collection 'Chris Farlowe Live At The BBC' in 2017, with the Thunderbirds on many of the 38 tracks, This was accompanied by the re-release of that classic 1970 Prog rock solo album 'From Here To Mama Rosa'.  In 2018 Repertoire also devised another major project 'Chris Farlowe & The Thunderbirds The Anthology 1962-1966' with liner notes featuring extensive interviews with Chris, Albert Lee and Dave Greenslade.
Although Chris suffered injuries sustained in a fall that year he was well enough to perform at a tribute concert to the late Jon Hiseman, held at the 02 Shepherds Bush in February 2019.  He stole the show when he sang the Colosseum favourite 'Walking In The Park' with all his old power.  In 2020 despite the onset of the Covid 19 pandemic, and the closure of many 'live music' venues, Chris still had plans for the future including a return to touring in 2021. He told his fans on-line : "I'm dying to get on stage. That's been the real bugbear for me about the Lockdown, not being able to sing. " Meanwhile work continued on the completion of  the documentary film about his life 'Out Of Time'  and he looked forward to concerts with a reformed version of Colosseum,  with Dave Clempson and Mark Clarke, for which he'd written new songs.
For Farlowe fanatics everywhere (and they are legion!), he is the consummate rocker, the living embodiment of the star who's seen it all and done most of it, but remains as fresh and enthusiastic as when he started out, over 50 years ago. We can count ourselves fortunate to be witnesses to this living legend, and privileged to call him a friend. With a live act honed to perfection, many of today's so called superstars could learn a lot from him. Whenever we see him, wherever we see him, the audience is spellbound, gripped by every gesture, and each note in every song; the hardest act to follow that there's ever been.
Asked a few years ago if he regards 'Out of Time' as his albatross, Chris replied 'it brought me everything I have lost and almost everything I have now. I would not change it for the world.'