Consummate jazz/blues saxophonist player whose solos had the sound of rightness.
Tribute from JH | Tribute from BT | The Guardian: Dick Heckstall Smith Tribute Concert | The Times Obituary | The Telegraph Obituary | The Daily Express Obituary
Dick Heckstall-Smith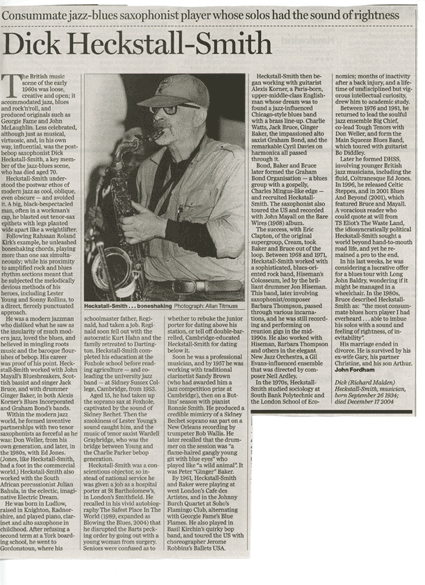 The British music scene of the early 1960s was loose creative and open; it accommodated jazz, blues and rock'n'roll, and produced originals such as Georgie Fame and John McLaughlin. Less celebrated, although just as musical, virtuosic, and, in his own way, influential, was the post-bebop saxophonist Dick Heckstall-Smith, a key member of the jazz/blues scene, who has died aged 70.
Heckstall-Smith understood the postwar ethos of modern jazz as cool, oblique, even obscure and avoided it. A big, black-bespectacled man, often in a workman's cap, he blasted out tenorsax epithets with legs planted wide apart like a weightlifter.
Following Rahsaan Roland Kirk's example, he unleashed boneshaking chords, playing more than one sax simultaneously; while his proximity to amplified rock and blues rhythm sections meant that he subjected the melodically devious methods of his heroes, including Lester Young and Sonny Rollins, to a direct, fiercely punctuated approach.
He was a modern jazzman who disliked what he saw as the insularity of much modern jazz, loved the blues, and believed in mingling roots music and the baroque flourishes of bebop. His career was proof of his point. HeckstallSmith worked with John Mayall's Bluesbreakers, Scottish bassist and singer Jack Bruce, and with drummer Ginger Baker, in both Alexis Korner's Blues Incorporated and Graham Bond's bands.
Within the modern jazz world, he formed inventive partnerships with two tenor saxophonists as forceful as he was: Don Weller, from his own generation, and later, in the 1980s, with Ed Jones. (Jones, like HeckstallSmith, had a foot in the commercial world.) Heckstall-Smith also worked with the South African percussionist Julian Bahula, in the eclectic, imaginative Electric Dream.
He was born in Ludlow, raised in Knighton, Radnorshire, and played piano, clarinet and alto saxophone in childhood. After refusing a second term at a York boarding school, he went to Gordonstoun, where his schoolmaster father, Reginald, had taken a job. Reginald soon fell out with the autocratic Kurt Hahn and the family retreated to Dartington. Heckstall-Smith completed his education at the Foxhole school before reading agriculture and co-leading the university jazz band at Sidney Sussex College, Cambridge, from 1953.
Aged 15, he had taken up the soprano sax at Foxhole, captivated by the sound of Sidney Bechet. Then the smokiness of Lester Young's sound caught him, and the music of tenor saxist Wardell Graybridge, who was the bridge between Young and the Charlie Parker bebop generation.
Heckstall-Smith was a conscientious objector, so instead of national service he was given a job as a hospital porter at St Bartholomew's, in London's Smithfield. He recalled in his vivid autobiography The Safest Place In The World (1989, expanded as Blowing the Blues, 2004) that he disrupted the Barts pecking order by going out with a young woman from surgery. Seniors were confused as to whether to rebuke the junior porter for dating above his station, or tell off doublebarrelled, Cambridgeeducated HeckstallSmith for dating below it.
Soon he was a professional musician, and by 1957 he was working with traditional clarinetist Sandy Brown (who had awarded him a jazz competition prize at Cambridge), then on a Butlins' season with pianist Ronnie Smith. He produced a credible mimicry of a Sidney Bechet soprano sax part on a New Orleans recording by trumpeter Bob Wallis. He later recalled that the drummer on the session was "a flamehaired gangly young git with blue eyes" who played like "a wild animal". It was Peter "Ginger" Baker.
By 1961, Heckstall-Smith and Baker were playing at west London's Cafe des Artistes, and in the Johnny Burch Quartet at Soho's Flamingo Club, alternating with Georgie Fame's Blue Flames. He also played in Basil Kirchin's quirky bop band, and toured the US with choreographer Jerome Robbins's Ballets USA.
Heckstall-Smith then began working with guitarist Alexis Korner, a Parisborn, uppermiddleclass Englishman whose dream was to found a jazzinfluenced Chicagostyle blues band with a brass lineup. Charlie Watts, Jack Bruce, Ginger Baker, the impassioned alto saxist Graham Bond, and the remarkable Cyril Davies on harmonica all passed through it.
Bond, Baker and Bruce later formed the Graham Bond Organisation a blues group with a gospelly, Charles Mingus like edge and recruited Heckstall-Smith. The saxophonist also toured the US and recorded with John Mayall on the Bare Wires (1968) album.
The success, with Eric Clapton, of the original supergroup, Cream, took Baker and Bruce out of the loop. Between 1968 and 1971, Heckstall-Smith worked with a sophisticated, bluesoriented rock band, Hiseman's Colosseum, led by the brilliant drummer Jon Hiseman. This band, later involving saxophonist/composer Barbara Thompson, passed through various incarnations, and he was still recording and performing on reunion gigs in the mid 1990s. He also worked with Hiseman, Barbara Thompson and others in the elegant New Jazz Orchestra, a Gil Evans influenced ensemble that was directed by composer Neil Ardley.
In the 1970s, Heckstall-Smith studied sociology at South Bank Polytechnic and the London School of Economics; months of inactivity after a back injury, and a lifetime of undisciplined but vigorous intellectual curiosity, drew him to academic study.
Between 1976 and 1981, he returned to lead the soulful jazz ensemble Big Chief, colead Tough Tenors with Don Weller, and form the Main Squeeze Blues Band, which toured with guitarist Bo Diddley.
Later he formed DHSS, involving younger British jazz musicians, including the fluid, Coltranesque Ed Jones. In 1996, he released Celtic Steppes, and in 2001 Blues And Beyond (2001), which featured Bruce and Mayall. A voracious reader who could quote at will from TS Eliot's The Waste Land, the idiosyncratically political Heckstall-Smith sought a world beyond hand-to-mouth road life, and yet he remained a pro to the end.
In his last weeks, he was considering a lucrative offer for a blues tour with Long John Baldry, wondering if it might be managed in a wheelchair. In the 1980s, Bruce described Heckstall-Smith as: "the most consummate blues horn player I had everheard… able to imbue his solos with a sound and feeling of rightness, of inevitability".
His marriage ended in divorce. He is survived by his ex-wife Gary, his partner Christine, and his son Arthur.
John Fordham
Dick (Richard Malden) Heckstall-Smith, musician, born September 26 1934; died December 17th 2004