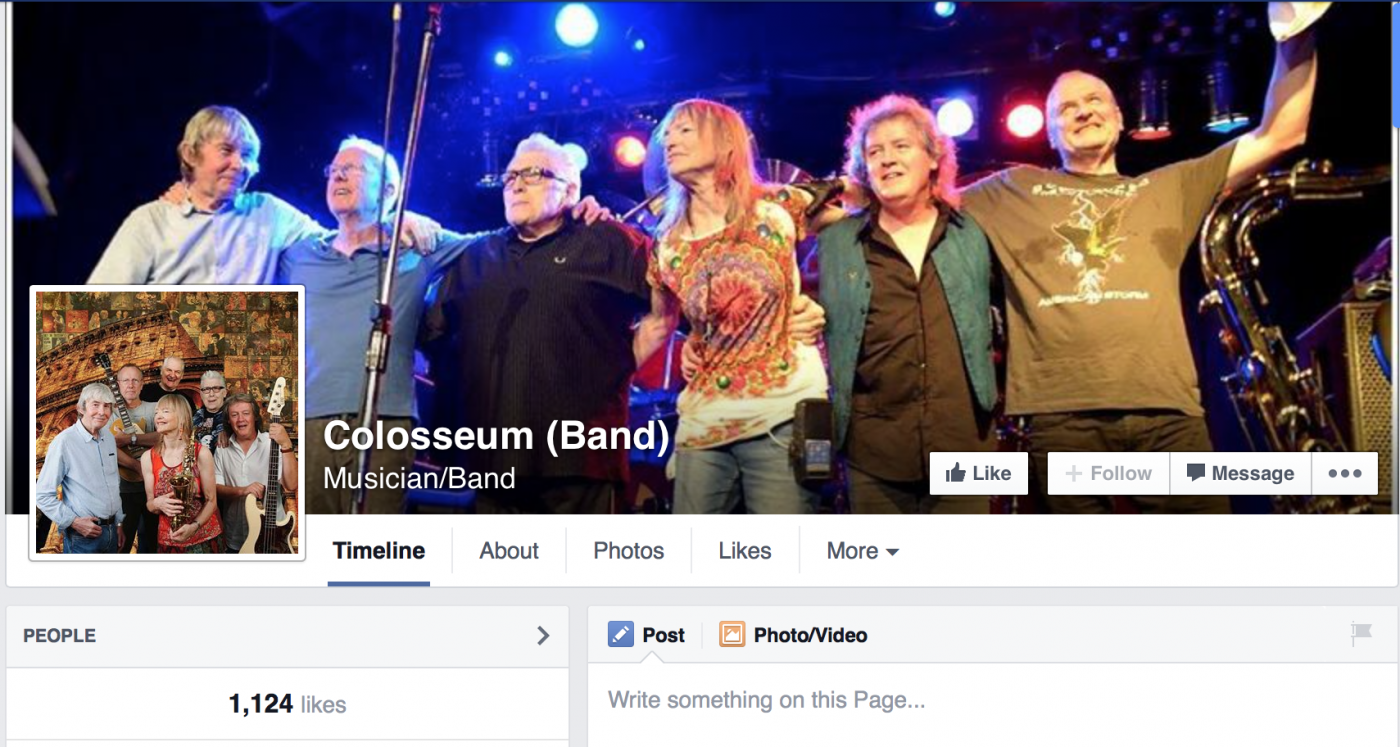 "I'd like to use this very lively forum (Jon Hiseman's COLOSSEUM – Fan Page) to thank everyone who came to the last few concerts – particularly the crowd at the SBE, who gave us such a fantastic sendoff. To those who couldn't get to any of the last concerts, but have supported us around the world and through all the years, I thank you too. It's been a great trip, our audiences have been and are wonderful people who really believed in the vision. The SBE management complimented me on a fantastic band, fantastic crew and fantastic audience, " such great people" they commented. And they've seen it all!
It was also wonderful, as a proud parents, to have our daughter Ana Gracey on stage singing her own composition "Blues to Music" with Chris – 'Beauty & The Beast' ?
I'm not sorry that we're calling it a day now, when, by general consensus we are still at the top of our game. Yes, to an extent our departure has been forced upon us, but actually, regardless of that pressure, I feel in my bones that it's the right thing to do…and the right time to do it.
It goes without saying that my sincere thanks go to Chris, Dave, Clem, Mark and Barbara for their unflagging faith over the years; and the fact that, together, we have just made an album that was the easiest of all to make. 'Easy' does not always equate to good or better, but there is something indefinably "easy" about the new album which I like very much – I guess time will tell. Maybe, after all these years, we finally learnt how to do it.
I also want to mention our great crew, led by Miles Ashton at the mixing desk. He is an experienced and accomplished recording engineer in his own right, as well as being the sound and technical manager at Ronnie Scott's Jazz Club. He's worked with Barbara and I for a long time and I dread to think what a gig would sound like without him. Barry Venn has commanded the stage for this tour, as he did on our reunion tour in '95. Daniel Bergmann is the new boy on the Monitor desk. One should never underestimate the importance of those roles and the feeling of security we get as artists, with those guys supporting us.
In Europe, we had a fantastic tour manager, Gert Lange whose agency, Handmade Concerts has represented us for years. "Clockwork Tours" – thanks Gert. Thanks also to Barbel Kuhn, our unflappable merchandise lady on the European tour, who smiled her way through the vicissitudes of selling and accounting for a variety of stuff, often at breakneck speed.
On a slightly more serious note, I know that Dick Heckstall-Smith would have loved that last concert. He was always one for the big occasion and I'm sure that Arthur, his son and Dick's former wife, Gary (both of whom were with us at the final concert), made sure Dick was looking over our collective shoulder.
Lots of people asked me at these gigs what I will do now that I've 'retired'. My flippant answer was always, "get a life", but actually I reckon I've got 10 years work to do before I wake up one morning with 'not much going on'. Among other things, I have three houses to look after as well as making sure that Barbara's Parkinson's does not start winning.
Right now, I have to finish an almost completed album from Barbara's band Paraphernalia, entitled "The Last Fandango". I have also promised myself to investigate 'Linear Drumming'. No idea what it is, but it seems all the rage. You never know, it might just be what I have been searching for all my life?
Then there are the many, many recordings of broadcasts and concerts, right from the earliest days, that have to be rescued from the tape format, before they break down chemically, in order that I can get them up onto a website for free streaming. It's quite an archive. It will take some time since many of the tapes have to be literally baked in the oven to stabilise them.
Also, I believe I have a few more videos in me (www.youtube.com/thedrummerjh) and Barbara currently has a lot of unfinished compositions nearing completion. Her saxophone concerto is being performed by the Strasbourg Symphony at the World Saxophone Congress in July, added to which I have to produce a recorded version of a piece that Barbara has written for new young saxophone star Jess Gillam (who was also at the SBE.)
I am, of course, still working on my aerosol drumkit that will revolutionise the way kits are set up and taken down. I'm making quite good progress – the kit comes out of the can and sets up ok, but I'm still having trouble getting it back in again after the gig. Maybe the solution is to lighten the whole structural concept and make it disposable!
On the Sunday morning, feeling somewhat drained, Barbara woke up with a hankering for a smoked kipper breakfast. So, out we went to buy a couple of packs at M&S. It was really strange – nobody recognised us at all!
After that, I decided the only way to wind down was to go into the studio and spend 6 hours mixing the music that Clem has created for a new BBC film that director Mike Dibb is making. It's a documentary about a murderer, locked in solitary confinement for life in the American prison system and who, denied paints or paintbrushes, creates works of art using the colouring from sweets with brushes made from his own hair.
So who's retiring?
I used to be Jon Hiseman, but I'm feeling better now."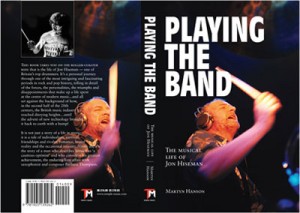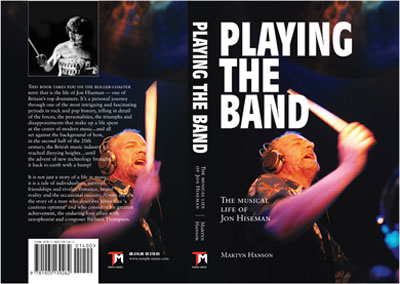 Playing the Band: The Musical Life of Jon Hiseman
Available to buy on Amazon