DICK HECKSTALL-SMITH
Tribute from JH | Tribute from BT | The Guardian: Dick Heckstall Smith Tribute Concert | The Guardian Obituary | The Telegraph Obituary | The Daily Express Obituary
Innovative British saxophonist equally at home with jazz, blues and rock.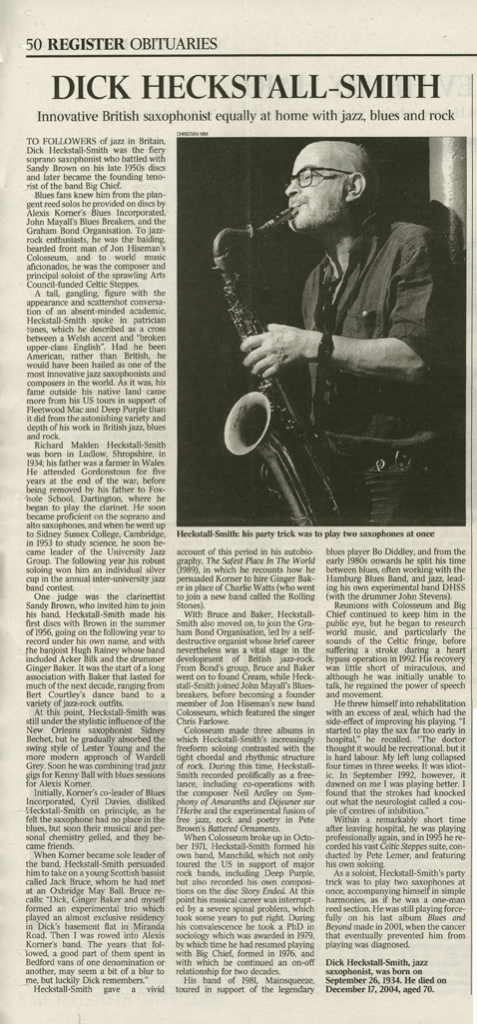 TO FOLLOWERS of jazz in Britain, Dick Heckstall-Smith was the fiery soprano saxophonist who battled with Sandy Brown on his late 1950s discs and later became the founding tenorist of the band Big Chief.
Blues fans knew him from the plangent reed solos he provided on discs by Alexis Korner's Blues Incorporated, John Mayall's Blues Breakers, and the Graham Bond Organisation. To jazz-rock enthusiasts, he was the balding, bearded front man of Jon Hiseman's Colosseum, and to world music aficionados, he was the composer and principal soloist of the sprawling Arts Council funded Celtic Steppes.
A tall, gangling, figure with the appearance and scattershot conversation of an absentminded academic, Heckstall-Smith spoke in patrician tones, which he described as a cross between a Welsh accent and "broken upperclass English". Had he been American, rather than British, he would have been hailed as one of the most innovative jazz saxophonists and composers in the world. As it was, his fame outside his native land came more from his US tours in support of Fleetwood Mac and Deep Purple than it did from the astonishing variety and depth of his work in British jazz, blues and rock.
Richard Maiden Heckstall-Smith was born in Ludlow, Shropshire, in 1934; his father was a farmer in Wales. He attended Gordonstoun for five years at the end of the war, before being removed by his father to Foxhole School, Dartington, where he began to play the clarinet. He soon became proficient on the soprano and alto saxophones, and when he went up to Sidney Sussex College, Cambridge, in 1953 to study science, he soon became leader of the University Jazz Group. The following year his robust soloing won him an individual silver cup in the annual interuniversity jazz band contest.
One judge was the clarinetist Sandy Brown, who invited him to join his band. HeckstallSmith made his first discs with Brown in the summer of 1956, going on the following year to record under his own name, and with the banjoist Hugh Rainey whose band included Acker Bilk and the drummer Ginger Baker. It was the start of a long association with Baker that lasted for much of the next decade, ranging from Bert Courtley's dance band to a variety of jazzrock outfits.
At this point, HeckstallSmith was still under the stylistic influence of the New Orleans saxophonist Sidney Bechet, but he gradually absorbed the swing style of Lester Young and the more modem approach of Wardell Grey. Soon he was combining trad jazz gigs for Kenny Ball with blues sessions for Alexis Korner.
Initially, Korner's coleader of Blues Incorporated, Cyril Davies, disliked HeckstallSmith on principle, as he felt the saxophone had no place in the blues, but soon their musical and personal chemistry gelled, and they became friends.
When Korner became sole leader of the band, HeckstallSmith persuaded him to take on a young Scottish bassist called Jack Bruce, whom he had met at an Oxbridge May Ball. Bruce recalls: "Dick, Ginger Baker and myself formed an experimental trio which played an almost exclusive residency in Dick's basement flat in Miranda Road. Then I was rowed into Alexis Korner's band. The years that followed, a good part of them spent in Bedford vans of one denomination or another, may seem a bit of a blur to me, but luckily Dick remembers."
Heckstall-Smith gave a vivid account of this period in his autobiography, "The Safest Place In The World"(1989), in which he recounts how he persuaded Korner to hire Ginger Baker in place of Charlie Watts (who went to join a new band called the Rolling Stones).
With Bruce and Baker, Heckstall-Smith also moved on, to join the Graham Bond Organisation, led by a self destructive organist whose brief career nevertheless was a vital stage in the development of British jazzrock. From Bond's group, Bruce and Baker went on to found Cream, while HeckstallSmith joined John Mayall's Bluesbreakers, before becoming a founder member of Jon Hiseman's new band Colosseum, which featured the singer Chris Farlowe.
Colosseum made four albums in which Heckstall-Smith's increasingly freeform soloing contrasted with the tight chordal and rhythmic structure of rock. During this time, Heckstall-Smith recorded prolifically as a freelance, including cooperations with the composer Neil Ardley on Symphony of Amaranths and Déjeuner sur l'Herbe and the experimental fusion of free jazz, rock and poetry in Pete Brown's Battered Ornaments.
When Colosseum broke up in October 1971, Heckstall-Smith formed his own band, Manchild, which not only toured the US in support of major rock bands, including Deep Purple, but also recorded his own compositions on the disc A Story Ended. At this point his musical career was interrupted by a severe spinal problem, which took some years to put right. During his convalescence he took a PhD in sociology which was awarded in 1979, by which time he had resumed playing with Big Chief, formed in 1976, and with which he continued an onoff relationship for two decades.
His band of 1981, Mainsqueeze, toured in support of the legendary blues player Bo Diddley, and from the early 1980s onwards he split his time between blues, often working with the Hamburg Blues Band, and jazz, leading his own experimental band DHSS (with the drummer John Stevens.)
Reunions with Colosseum and Big Chief continued to keep him in the public eye, but he began to research world music, and particularly the sounds of the Celtic fringe, before suffering a stroke during a heart bypass operation in 1992. His recovery was little short of miraculous, and although he was initially unable to talk, he regained the power of speech and movement
He threw himself into rehabilitation with an excess of zeal, which had the sideeffect of improving his playing. "I started to play the sax far too early in hospital," he recalled. "The doctor thought it would be recreational, but it is hard labor. My left lung collapsed four times in three weeks. It was idiotic. In September 1992, however, it dawned on me I was playing better. I found that the strokes had knocked out what the neurologist called a couple of centers of inhibition."
Within a remarkably short time after leaving hospital, he was playing professionally again, and in 1995 he recorded his vast Celtic Steppes suite, conducted by Pete Lemer, and featuring his own soloing.
As a soloist, Heckstall-Smith's party trick was to play two saxophones at once, accompanying himself in simple harmonies, as if he was a oneman reed section. He was still playing forcefully on his last album Blues and Beyond made in 2001, when the cancer that eventually prevented him from playing was diagnosed.
Dick Heckstall-Smith, jazz saxophonist, was born on September 26, 1934. He died on December 17, 2004, aged 70.