Dick Heckstall-Smith
Tribute from JH | Tribute from BT | The Guardian: Dick Heckstall Smith Tribute Concert | The Times Obituary | The Guardian Obituary | The Daily Express Obituary
Jazz/blues saxophonist whose work with John Mayall, Colosseum and other bands embellished British music in the 1960s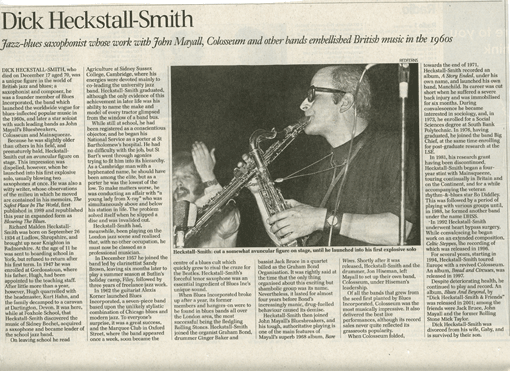 DICK HECKSTALLSMITH, who died on December 17 aged 70, was a unique figure in the world of British jazz and blues; a saxophonist and composer, he was a founder member of Blues Incorporated, the band which launched the worldwide vogue for bluesinflected popular music in the 1960s, and later a star soloist with such leading bands as John Mayall's Bluesbreakers, Colosseum and Mainsqueeze.
Because he was slightly older than others in his field, and prematurely bald, HeckstallSmith cut an avuncular figure on stage. This impression was dispelled, however, when he launched into his first explosive solo, usually blowing two saxophones at once. He was also a witty writer, whose observations of the milieu in which he moved are contained in his memoirs, The Safest Place In The World, first published in 1989 and republished this year in expanded form as Blowing The Blues.
Richard Malden HeckstallSmith was born on September 26th 1934 at Ludlow, Shropshire, and brought up near Knighton in Radnorshire. At the age of 11 he was sent to boarding school in York, but refused to return after his first term. In 1947 he was enrolled at Gordonstoun, where his father, Hugh, had been appointed to the teaching staff. After little more than a year, however, Hugh quarrelled with the headmaster, Kurt Hahn, and the family decamped to a caravan at Dartington, Devon. It was here, while at Foxhole School, that HeckstallSmith discovered the music of Sidney Bechet, acquired a saxophone and became leader of the school jazz band.
On leaving school he read Agriculture at Sidney Sussex College, Cambridge, where his energies were devoted mainly to coleading the university jazz band. HeckstallSmith graduated, although the only evidence of this achievement in later life was his ability to name the make and model of every tractor glimpsed from the window of a band bus.
While still at school, he had been registered as a conscientious objector, and he began his National Service as a porter at St Bartholomew's hospital. He had no difficulty with the job, but St Bart's went through agonies trying to fit him into its hierarchy. As a Cambridge man with a hyphenated name, he should have been among the elite, but as a porter he was the lowest of the low. To make matters worse, he was conducting an affair with "a young lady from Xray" who was simultaneously above and below his station in life. The problem solved itself when he slipped a disc and was invalided out.
HeckstallSmith had, meanwhile, been playing on the London jazz scene and realised that, with no other occupation, he must now be classed as a professional musician.
In December 1957 he joined the bandied by clarinettist Sandy Brown, leaving six months later to play a summer season at Butlin's holiday camp, Filey, followed by three years of freelance jazz work.
In 1962 the guitarist Alexis Korner launched Blues Incorporated, a sevenpiece band based upon the unlikely stylistic combination of Chicago blues and modern jazz. To everyone's surprise, it was a great success, and the Marquee Club in Oxford Street, where the band appeared once a week, soon became the centre of a blues cult which quickly grew to rival the craze for the Beatles. HeckstallSmith's forceful tenor saxophone was an essential ingredient of Blues Inc's unique sound.
When Blues Incorporated broke up after a year, its former members and hangerson were to be found in blues bands all over the London area, the most successful being the fledgling Rolling Stones. HeckstallSmith joined the organist Graham Bond, drummer Ginger Baker and bassist Jack Bruce in a quartet billed as the Graham Bond Organisation. It was rightly said at the time that the only thing organised about this exciting but shambolic group was its name. Nevertheless, it lasted for almost four years before Bond's increasingly manic, thugfuelled behaviour caused its demise.
Heckstall-Smith then joined John Mayall's Bluesbreakers, and his tough, authoritative playing is one of the main features of Mayall's superb 1968 album, Bare Wires. Shortly after it was released, HeckstallSmith and the drummer, Jon Hiseman, left Mayall to set up their own band, Colosseum, under Hiseman's leadership.
Of all the bands that grew from the seed first planted by Blues Incorporated, Colosseum was the most musically impressive. It also delivered the best live performances, although its record sales never quite reflected its grassroots popularity.
When Colosseum folded, towards the end of 1971, Heckstall-Smith recorded an album, A Story Ended, under his own name, and launched his own band, Manchild. Its career was cut short when he suffered a severe back injury and was immobilised for six months. During convalescence he became interested in sociology, and, in 1973, he enrolled for a Social Sciences degree at South Bank Polytechnic. In 1976, having graduated, he joined the band Big Chief, at the same time enrolling for postgraduate research at the LSE.
In 1981, his research grant having been discontinued, HeckstallSmith began a four year stint with Mainsqueeze, touring continually in Britain and on the Continent, and for a while accompanying the veteran rhythm&blues star Bo Diddley. This was followed by a period of playing with various groups until, in 1988, he formed another band under the name DHSS.
In 1992 Heckstall-Smith underwent heart bypass surgery. While convalescing he began work on an extended composition, Celtic Steppes,the recording of which was released in 1996.
For several years, starting in 1994, HeekstallSmith toured Europe with a revived Colosseum. An album, Bread and Circuses, was released in 1997.
Despite deteriorating health, he continued to play and record. An album, Blues And Beyond, by "Dick Heckstall-Smith & Friends" was released in 2001; among the friends were Jack Bruce, John Mayall and the former Rolling Stone Mick Taylor.
Dick Heckstall-Smith was divorced from his wife, Gary, and is survived by their son.