The more time that passed from the day in November 1971 that Jazz-rock pioneers Colosseum split up , the less likely it seemed that they would ever work together again. However, more than 30 years down the line, Jon Hiseman, Chris Farlowe, Clem Clempson, Dave Greenslade and Mark Clarke are still going strong. Tragically, Saxophonist Dick Heckstall-Smith succumbed to an 18 month long battle with ill heath and died at the end of 2004. Jon's long time wife and internationally-renowned saxophonist Barbara Thompson stepped into his shoes through his long ordeal and has now become a permanent member.
Great interest in the re-mastered CD releases of their original albums helped persuade drummer Hiseman to give the nod for the return of Colosseum. Following a one off sold out reunion festival date in June 94 they embarked on a 60-date 1995 European tour and the release of another live CD and DVD ("Colosseum LiveS -The Reunion Concerts 1994") featuring all the Colosseum favourites, all executed in a manner which showed they had lost none of their fire and energy.
The band's break-up in 1971 meant their final release had been a live album which was rated as one of their finest offerings – and it is perhaps fitting that they should have kicked off the return of Colosseum with another live effort.
In the summers of 1997 and 2003 the six of them re-convened at Temple Music, the Sutton, Surrey, Jon & Barbara's recording studio and recorded two new studio albums, "Bread & Circuses" & "Tomorrows Blues."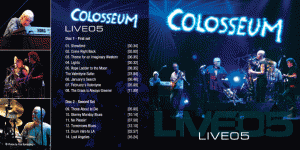 "…the reviews have been embarrassing …embarrassingly GOOD!" Jon Hiseman
Buy Album
With both their own and collective reputations to protect, the sheer professionalism of Hiseman,(drums) Farlowe (vocals), Heckstall- Smith (saxes). Clempson (guitar), Greenslade (keyboards) and Clarke (bass) would always be enough to avoid any danger of sullying the band's memory, frozen in time and perfectly preserved over the intervening years. As Jon Hiseman recently said, " the reviews have been embarrassing……….embarrassingly GOOD!"
Fans who have savoured the moment on the Reunion Concerts CD where Colosseum once again sweep full-tilt into a thunderous version of Those About To Die…. will know that the flamboyant enthusiasm is still there in all its glory. But there has always been more to Colosseum than explosive, hell-for-leather driving Jazz-rock; such awesome power always shares the platform with bitter-sweet delicate touches, and the whole experience brings impassioned playing full of majestic grandeur – delivered with the dynamic confidence of virtuoso musicians who know exactly what they are doing.
Hiseman and Heckstall-Smith had first met up in the Graham Bond Organisation in 1966 – Hiseman having replaced Ginger Baker, who'd left for Cream. They both left Bond the following year; the drummer Joining Georgie Fame's band, the sax man – who'd earlier been a key figure in Alexis Korner's Blues Incorporated – heading for John Mayall's Bluesbreakers. But 1968 saw Hiseman in Mayall's band as well, the pair of them featuring on the Bare Wires album.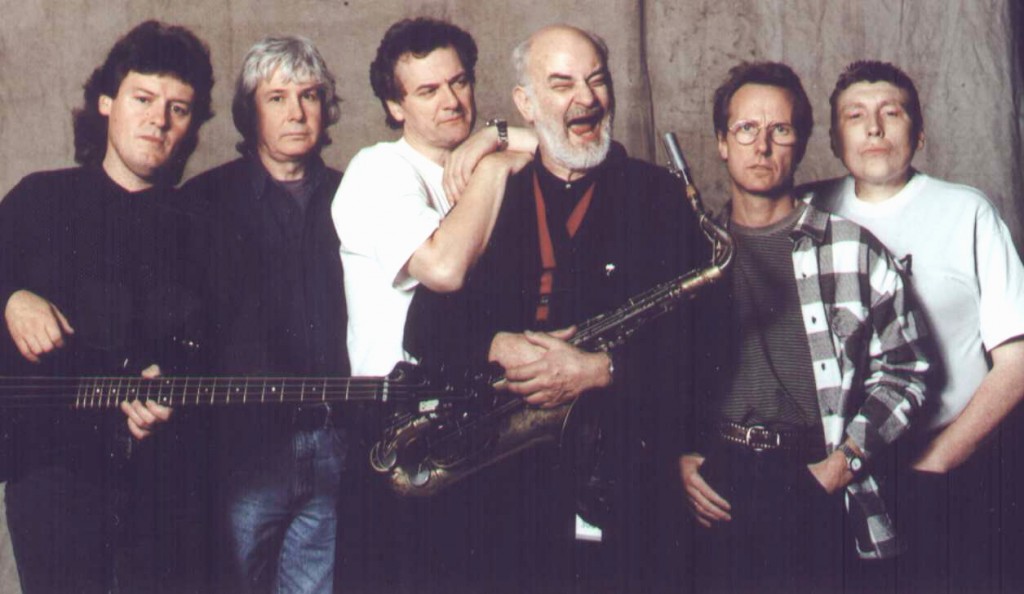 It was then that Hiseman took the momentous decision to fold the band, and they each went their separate ways. Yet even as they followed their own paths in music, eager promoters and loyal fans were forever pushing for Colosseum to re-form. But Hiseman – his diary jammed solid with sundry musical projects – always resisted the calls.
The turning point was Greenslade's 50th birthday party. His old Colosseum mates – with the exception of America-based Clarke – had been invited as surprise guests, and Hiseman found himself cornered by the others. In fact circumstances had contrived to change the picture as far as he was concerned; much of his post-Colosseum work had been done in conjunction with his wife, and she'd recently decided that she wanted to concentrate for a time on the classical sphere rather than jazz. Hiseman could see space ahead – room enough to set wheels in motion for Colosseum.
Even given the undoubted deep-rooted affection for the band, there was still considerable surprise about the way promoters rushed to offer dates for a comeback European tour – and about how they were received by the fans, some of them not even born when the group split in '71. A further string of 30- odd concert hall-type shows in Germany, Austria, Switzerland, Belgium, Holland and Italy promoted the new studio album in late '97. All roads finally led back to Colosseum.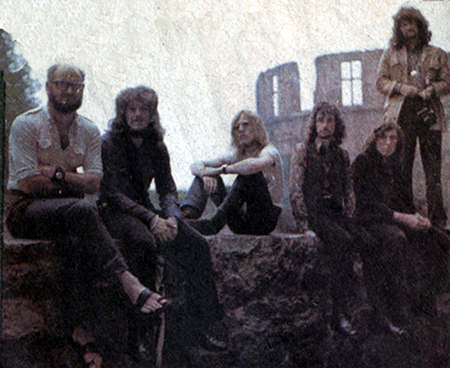 "The climate was right," says Hiseman, then 61. One of the tricks in this business is having a nose for when it's right to do things. It was right to form Colosseum, and it was right to stop it. It was right to wait until 94 to resurrect it; if we'd done it seven or eight years earlier, it wouldn't have worked as well. That's just my instinct, but I'm sure it's the case."
His instinct was the main reason for the group's break-up. "I think that bands are living things and that at the end of the day they have a kind of natural life." he says. "We'd done the live album and it had been incredibly successful, and I felt that we wouldn't do anything as good." When Clempson told him he was considering an offer to replace Peter Frampton in Humble Pie, Hiseman advised him to take it up. "I told him I was in two minds about whether to continue anyway. I said 'we've done what we set out to achieve – and it could be downhill from now on'. Rather than have Colosseum find another guitarist and then start work on a new album, Hiseman decreed that they had reached the end of the road.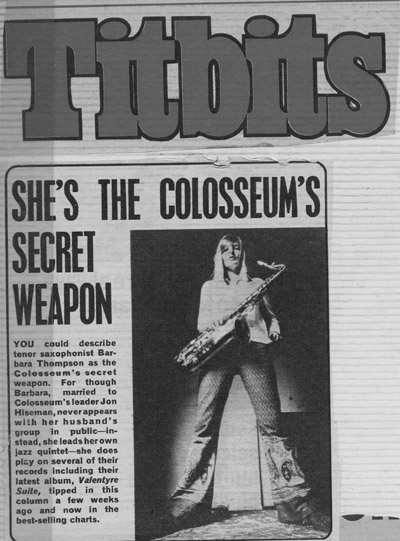 Hiseman's life after Colosseum has included running the bands Tempest and Colosseum II (the latter featuring Gary Moore), along with various jazz enterprises. He has worked extensively with his wife Barbara Thompson, drumming with her electric folk/jazz group Paraphernalia and with her, jointly composing for Film and TV. Barbara's Saxophone and Jon's production was responsible for the theme tune and incidental music for ITV's hit series "A Touch of Frost." Both are founder members of the long running band of bandleaders "The United Jazz & Rock Ensemble" For years it seemed it would be impossible for him to extricate himself from all his commitments – no matter how strong the pull of Colosseum.
Even with line-up changes, the group had only lasted three years. But Hiseman readily acknowledges its importance. "Every member of the band feels that their time with this band was a very special time, even though there were other times when more money was made and more records were sold," he says. "There are certain moments when you get together with a certain combination of people, and it works."
Even Chris Farlowe – whose career has encompassed a number one hit with 1966's Jagger-Richard song "Out of Time" as well as a front-line position on the blues stage – points to his spell with Colosseum as his favourite period. "It was great to join a band like that," he says. " I'm a vocalist who needs to be stretched – and I love being able to do things that other people can't do."
Farlowe, 63, looks forward to singing the old material alongside the brand new compositions – and knows there is a vast ready-made audience eager for the band's every appearance. "Every time I was in Germany touring with my band, promoters would come up to me and say "what is Colosseum doing? Why don't you get it together again?" And people would always shout out for Colosseum numbers," he says.
Much of the new material has been written by Dave Greenslade, who formed his own band after Colosseum – Greenslade – and later developed a highly- successful career composing theme and incidental music for TV. He'd played with Hiseman in a schooldays band and been with Farlowe during the singer's Sixties pop heyday – and it was at Greenslade's 50th birthday party that "after a few drinks some of us started to lobby Jon to get back into it again. We ganged up on him in a dark corner and he couldn't escape" he says.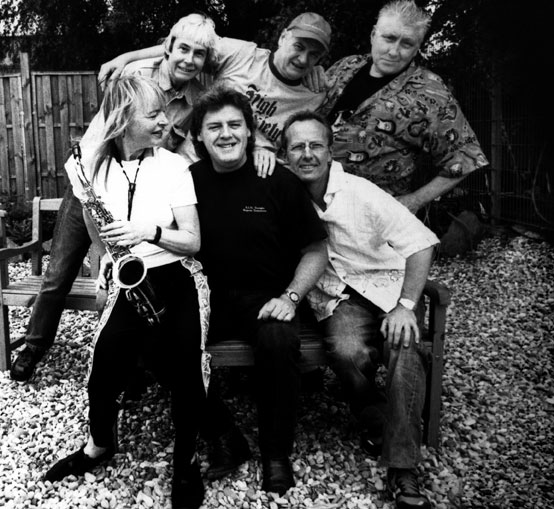 "Colosseum is a wonderful musical environment – we've all enjoyed having our own bands a one time or another, but there's just something about Colosseum – even more so this time around. We've all had a lot of differing experiences over the years and and they all come together in this one outfit. Colosseum seems to have a life of its own – to be more than just six people. There's something about the combination, the chemistry. Everybody in the band is very different, each character has his own unique contribution to make in one way or another, and now with Barbara in the band there's another, more lyrical side to Colosseum emerging. It's been a fascinating evolution…"