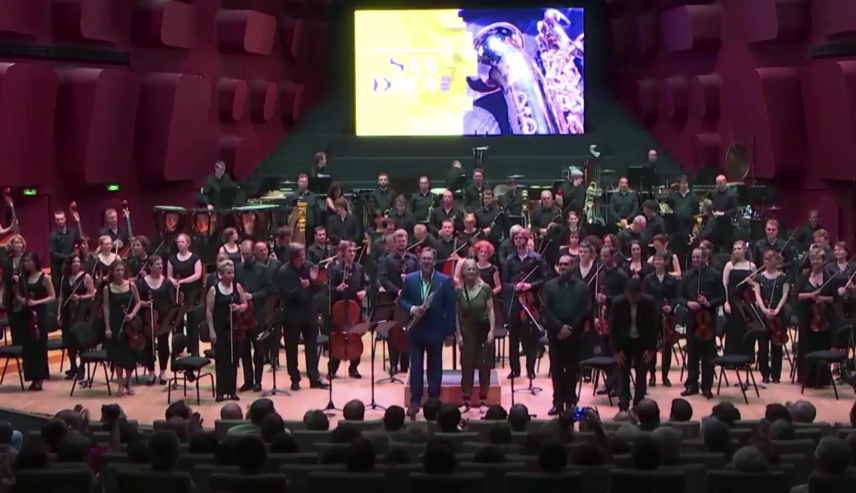 I wrote my Saxophone Concerto in 1988. It took me a year to complete it and I had no idea what would happen to it.
When I finished it, to my delight, the Freiburg festival immediately scheduled it on their programme.
It opened up a new world to me. I had been concentrating on my group Paraphernalia – playing jazz – and had not played any classical music for many years. At a festival in Hamburg in 1988, the Hannover Radio Symphony Orchestra recorded my concerto and I was the featured solist on all 3 movements. The late David Fingleton, music critic for The Sunday Express, flew out to review the concert. He gave me a wonderful review. David had taken me to many concerts he was reviewing, as his companion and this had rekindled my interest in classical music. At one such concert featuring the works of Sofia Gubaidulina at The Festival Hall, David introduced me to the eminent composer Geoffrey Burgon who wrote the music for Monty Python and Brideshead Revisited amongst many other other classical works. I would go and see him with my scores and he would give me advice.
I hope you will enjoy this more recent rendition of my concerto performed at the World Saxophone Congress on the 9th July 2015 with the Orchestra Philharmonique de Strasbourg.
The Concerto is in three movements:
Movement 1: Soloist Francesco Cafiso(IT), Alto Sax – Presto – approx 7 mins
Movement 2: Soloist Michael Arizonan(FR), Tenor Sax – Adagio, Molto Expressivo – approx 8 mins.
Movement 3: Soloist Rob Buckland(UK), Soprano Sax – Allegro, Spiritoso Giocoso – approx 6 mins.
Music published by Temple Music(PRS/MCPS)
Scores and parts can be downloaded FOC at www.barbara-thompson.co.uk