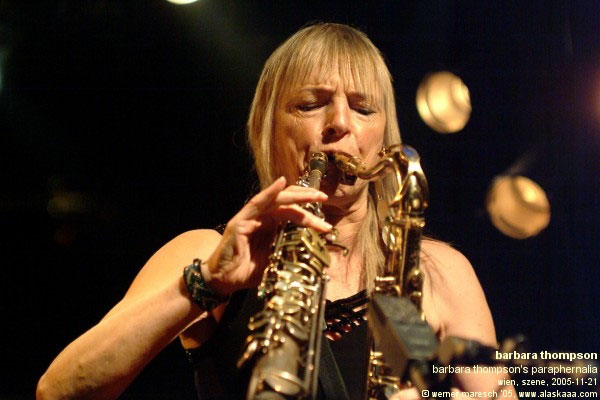 Barbara Thompson writes:
When I was diagnosed with Parkinson's Disease, 17 years ago, it came like a bolt from the blue. First of all I had no idea what PD was, and the specialist, whom should be nameless, did not enlighten me. When I arrived home from the hospital, Jon was rehearsing with Colosseum, and I deliberated whether or not, to interrupt him. When they came out for a break, I took him aside and told him the unwelcome news. "What do you want me to do", he asked, "shall I stop the rehearsal and send everybody home?"
I told him just to carry on, and that is basically what we have done. I decided earlier on that the only way to cope was not to make it the main point of my life, but treat it as an unwelcome visitor, whom if you made comfortable, made less demands on you. Most of the time when I am concentrating on what I am doing, I don't give PD a thought. Negative thoughts like "Why me?" should be rejected instantly, because first of all they don't help your situation, and secondly it suggests that you would rather someone else had PD rather than yourself, which again is negative thinking.
It is quite normal to feel frightened, but that usually is 'fear of the unknown'. Okay, PD is a progressive condition, but nothing drastic happens in the short term, and it is not life threatening. When you feel the dark clouds closing around your head, just remember that historically PD has been around for centuries, and so many famous people have suffered from it including Julius Caesar…